(Note- You may click on each picture for a full sized version)
Now that the project is done- here are a few 'after the fact' specs on the vehicles. Final movie links on very bottom:
Continuous Updates are on the bottom of this post ….
There are so many 'cool tough looking truck' vehicles out there – its time I dive in and make one that's been on my model list for a while. This inspiration came to me from a picture of a real Russian similar vehicle my friend Herman (IPMS Cape Town South Africa) sent me a while back. Its based on that real Russian 6×6….but you know- with my liberty to add artistic merit. Ideally- it's another one to add to my United Stated Geological Survey (USGS) what-ifs. This will have a submersible in the back end. It drives out into a body of water, then with the right valves, sinks a bit when the time comes to unload the submersible. It is not meant for deep ocean surveys – but there are lots of lakes around everywhere. I will update as this progresses.
More updates from the weekend( 10-10th Sat and 11th  Sunday-2015):
…and last but not least – a short video with narative. Please note- this person doing the talking worked with TV and Radio in Hollyweird and I can't say his name. But- he needed work so I gave him a peanut butter and jelly sandwhich…..
More progress starting thru October 18th, 2015:
Some interior beginnings….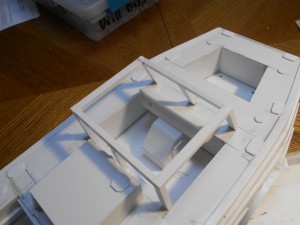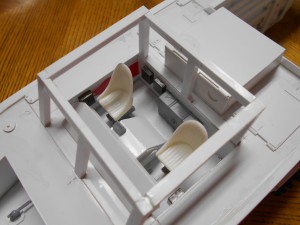 And lots of grab handles, steps etc….
Now some primer and paint…..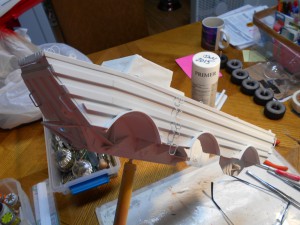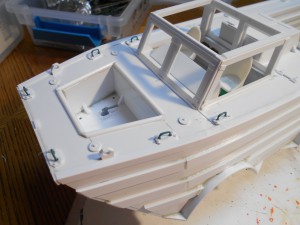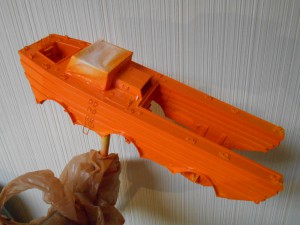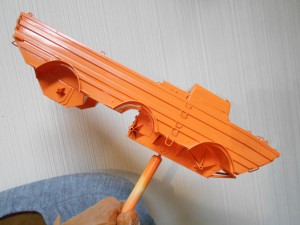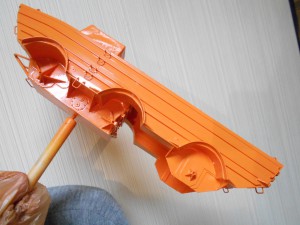 ..and already bought some fishing stuff for boat bumpers and items for as yet to be designed submersible….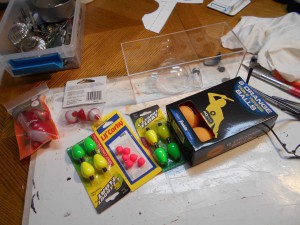 Some roof / hatch details….
…finally some clear on the orange….
…and so it goes through today Oct 18th…..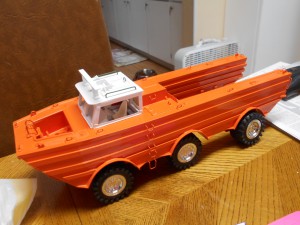 Wheels: After spending 40 days and 40 nights -well- maybe give or take minus 39 3/4 nights- I finally painted each lug nut on each wheel and mounted them.
And work on the roof / hatch / antennas….still in works:
And an overall of where I ended tonight: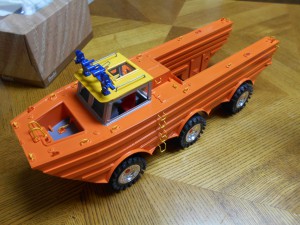 And a few more update pics for the week of Oct 19th to the 23rd……
I think I found my starting basis for the submersible….
Some updates for the weekend October 24-25, 2015
Air Intake work-borrowed from our WW2 Sherman's. Don't want water to get into the engines: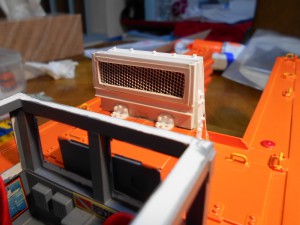 Pilot House almost done: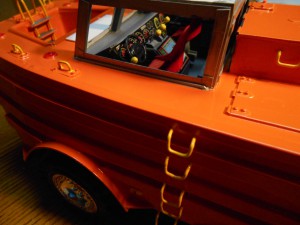 Now for more lights when the submersible is launched and retrieved:
Now for some real fun!!!! Sub work: you would not believe the work to take this toy gun apart!!!!
Hey- I have the main sub body and a new Sci-Fi Phaser!!…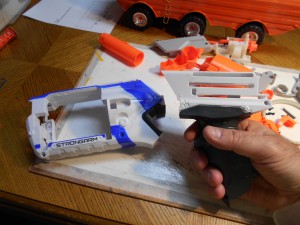 I can not believe what it took to take this 6 cylinder chamber apart. Child proof? I think it was titanium proof!!!!!!!
And here's all the work for this weekend: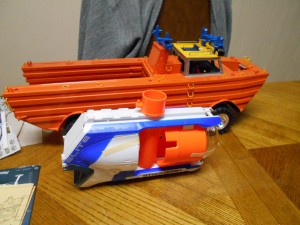 Oct 27,2015:
More on the sub…..
A few more updates from the frightening weekend…Halloween! (Oct 31-Nov 1, 2015). I dressed as a  model maker! Enjoy!
To answer your questions on how this thing is suppose to work (Theory of Operations):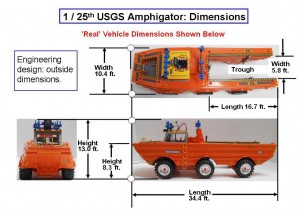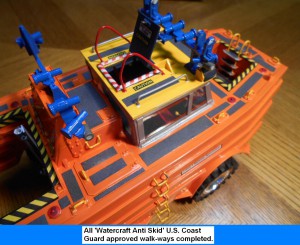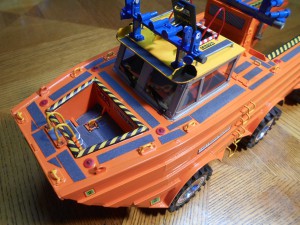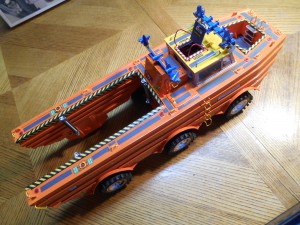 Nov 10, 2015: A few more updates….the main body of the sub has finally been painted…..
Just a few more add ons….
And a few more in progress pics…..so many details to go yet…..
Just a few more pics of progress through Nov 15th, 2015. The sub is getting closer to completion:
Additions up thru Nov 20, 2015….Enjoy!
Progress Thru Nov 22, 2015 – Submersible is completed…
Model Project completed Nov 28, 2015……some final pics and movie to follow soon…..
And finally- two short movies in living color:
Part 1: Time 5:55
Part 2: Time 2:08