Finally- although many months late – got this video to upload into YouTube. Just for your enjoyment to see the current orange fleet (United States Geological Survey) at the Kitsap Peninsula model show back in June of this year.
Many modelers are always asking for pics of what is currently in the fleet. This video will show you.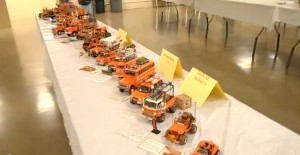 All 22 vehicles at the time this was taken.
Yes –two (2) new ones already in the works….
3:41 minutes long, no audio……
Enjoy! JD