Needing a break from dinosaurs and subs, I turn to our esteemed friend Mr. DeRosia for inspiration, and found it I did.  I cannot count how many airliners I have in my stash, but few get built for some reason.  After seeing John's wonderful 747-8, I pulled out one of my Hasegawa 747s from the bins and began to work.  The kit came with very nice ANA decals, and after much thought I decided to "just have fun with it" and build it as a "what if " Eastern Airlines ship.  Unfortunately, the original Eastern did not have the opportunity to fly the 747-400 due to its dissolution in 1991.  However, they did fly the 747-100 briefly in the early '70s before acquiring the L-1011.  Finding some Liveries Unlimited decals, and listening to John encouraging us to have fun with our models, the Eastern Airlines 747-400 project was born, (roughly at 2:43pmish last Saturday).  (Sorry about the blurry quality of the pics, but can't get good lighting in my work area for my camera.)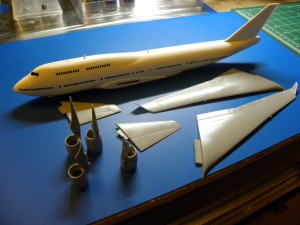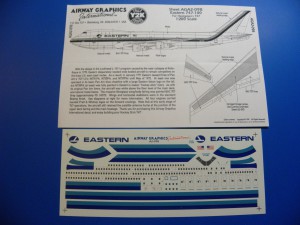 The kit goes together smoothly with few issues, but I did notice the forward half of the fuselage did not close as well as the 747-200 series from Hasegawa.  I used the kit supplied nose weights, but found that fit to be part of the issue, so I carved some of the plastic bulkhead that held the metal weights, and glued fishing weights onto each side of the fuselage interior for good measure. I airbrushed the interior with Vallejo Air black and sealed up the halves.  The engines are nice, but have those annoying seam lines in the intakes which will take care to remove, and will probably require the most time to complete.  They are thin and delicate, so I will have to use care to eliminate them while still keeping a perfect spherical shape for the intake.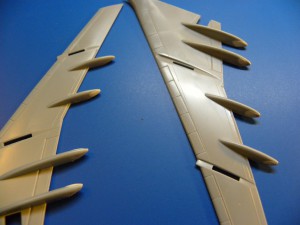 This model has several sink holes that need to be dealt with, most of them being on the lower wing sections.  I used Aves Fixit Sculpt to cover them up, as I felt gap filling glue would take several layers, and wanting this to be a quicker project, I decided to use my putty of choice.
This has been a nice break from the real world, and it is fun to imagine what could have been……………..More to come soon!
Ok, so the last time I build Hasegawa's 747-200 models, a few swipes with the sanding sticks, and the seams were gone.  Not so much on this model.  I sanded the fuselage full strength with a heavy duty sanding stick, and the seams beat the grit!!  I might need a power tool to tackle these seams.  I think Hasegawa has decided to add some granite in their plastic molding process.  See you in a few months…………………………………