This Kenworth K100 and Lowboy trailer is used to transport ultra-high capacitors to aid ground penetrating imaging for superior high definition pictures.
These are the largest ever developed for imaging work by the GE Electronics Division. They have a very high reliability. In addition, their simple structure gives them enormous mechanical strength.
Their aid in imaging quality down to 9000 feet underground can 'paint' a pebble the size of a shirt button.
This project was started during the Christmas 2016 holiday. Still have the cab to complete yet.
(You may click on any picture for a larger image.)
All three kit provided 'transformers' were used and 're-purposed' Frames to hold them all scratch built.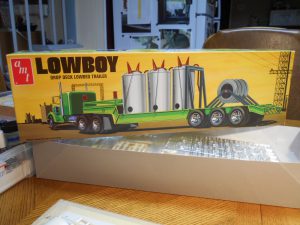 For all you airplane guru's – I used airplane gauges for the dash. Better than trying to hand paint the plastic.
Here you see the job foreman taking a break!! Meow Meow!
Cheap water flat black used to fill in exhaust.
Cab  still to complete……
Model has now been completed on Jan 23, 2017. what another fun project!!