AMT's Re-Release of the 1/25th Scale D8 Caterpillar Bulldozer
I get it. I NEVER had Tonka toys growing up so the next best thing now in my life is construction equipment models. That's why I had to have this kit again.
I built one about 30+ years ago. No kidding. Back when they probably first came out. It's somewhere downstairs in the basement. But I will not look for it until I complete this one I just bought. The current price is in the mid $30s. And they are becoming hard to find already since their release in May 2018. The parts have hardly any flash to boot. Most are crisp out of the mold.
It all looks the same with the exception of the decals. Better decals and such for sure. I'm building this one pretty much 'out-of-the-box', except I'm adding little things here and there. Nothing major.
The main blade in front has some pins molded on the blade arms, but I found right off that they could easily break. I cut them off and added drilled out holes and nice brass wire for strength.
Also – the main track bogies on both sides are a challenge. Unlike typical tank wheels (only the side of the hull to glue the arms / wheels to) – on this CAT, you have to squeeze nine (9) wheels (large and small) together between two frames. How I did this when I was younger may be one of the greatest mysteries of all time along with the Bermuda Triangle. I tried 3 times the other night and said "THAT's IT!!".
So I did what any sane modeler would do. I glued the wheels to one side of one frame, then aligned them as needed to the other side into their frame slots. Listen – I'm beyond wanting to play with models so I did not care if they ever turned again or not.
A lot of the parts do not have locating pins – so I encountered a lot of 'user error' enroute. Yikes! But- typically the liquid glue gives you lots of time to align the parts as needed.
Have fun as you keep building and lets play in the sandbox on Saturday…..I'll bring the CAT!!
(Note: You may click on any picture to make it full size. Also a short movie on the very bottom)
More pictures to follow!
More progress pictures from the last few weeks (End of June through mid July):
…and some more progress pics thru July 25, 2018:
A few more updates – early August 2018:
ALMOST THERE—MINUTES LEFT to complete the project: August 10, 2018
What a fun rewarding project. What are you waiting for? Get started on a 'cool' project and let your mind go bonkers. Finally completed this project.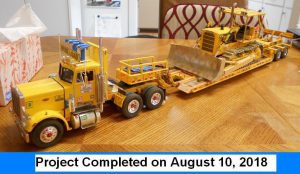 Movie: 2 min 17 sec