(Please note: you may click on the pictures for a larger image.)
And another one for the J and T Specialists Seattle vehicles fleet.
This is number 40 in the 'Orange Fleet' series of vehicles. I've had the American LaFrance snorkel tower kit for a while now. But I wanted to actually built it not as a fire truck. What to use it for? A light bulb went off this weekend after the April 9th Seattle IPMS meeting. The project job sites need a high platform to cast high intensity lights for the workers below. (of course at night- what are you thinking?…LOL!!)
And so this was born. It took me a while to go through my truck stash to settle on using the Ford cab for the front end.
So far- the conversion has been straight forward. Stretching the frame was easy. I did my usual use of Evergreen Styrene shapes to do the stretch and create the tie down (glue?) places the cab would sit at.
This will be the 'highest' model I have ever built when the snorkel boom is in its fully extended up position. About 3 feet. Wow!!! So a bit of work ahead to make it so the hydraulics keep the boom in the upright position – or using some other voodoo magic. Lastly- this is sort of screaming for me to MAYBE actually use batter operated lights……..we'll see!
Here are pics of a few days work so far…..Enjoy!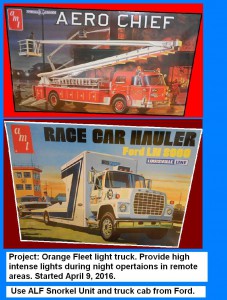 A few more updates:
Some weekend updates- Orange Marmalade has been started: (04-17-2016)
Some more progress pics ending on 04-26-2016:
And some more updates for the first week in July 2016:
Finally – am on the downhill run to complete this.
Stopped July 2016 – resumed Feb 2017:
Completed – Feb 7th, 2017. Just a few touch-ups. ended up with 10 working joints/pivots. Easy to turn lights on / off. Enjoy: